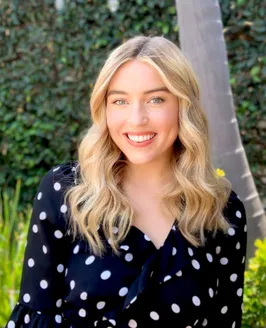 Emilee is a registered associate clinical social worker who believes deeply in the power of the therapeutic relationship to provide a space of healing and hope. She brings warmth and attunement to this alliance, while working from a place of humility, empathy, creativity, receptivity, and thoughtfulness. Emilee frequently enjoys laughter with her clients and genuinely engages them in the search for deeper understandings of themselves and their relationships. She draws from psychodynamic, family systems, DIR/Floortime, and neuro-developmental attachment-based approaches while tailoring her sessions to each client's unique needs.
Formal Training and Education:
Emilee received her Master's in Social Work with an emphasis in Children, Youth, and Families at the University of Southern California. She also holds a B.A. in Psychology from Loyola Marymount University.
Emilee has worked with children, adolescents and young adults in a variety of settings including residential, school, and community-based mental health. She specializes in areas of development, attachment, trauma, anxiety disorders, and autism spectrum disorders.
Emilee has trained and continues to expand her knowledge of Trauma-Informed Play Therapy, DIR/Floortime, and Cognitive Behavioral Therapy. She is currently working towards licensure under the supervision of KellyAnn Havlin, M.A., LMFT.
Associate Clinical Social Worker #103000 – State of California Board of Behavioral Sciences

Specializations: Specialize in areas of development, attachment, trauma, anxiety disorders, and autism spectrum disorders. I draw from psychodynamic, family systems, DIR/Floortime, and neuro-developmental attachment-based approaches
Client focus: Children, adolescents, and young adults with a variety of backgrounds
Services available: Telehealth | Insurance: No | Sliding scale: Yes