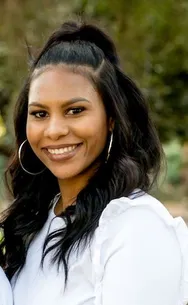 Starting the process of exploring challenging memories, finding ways to let light in through the cracks, and get up and meet your challenges can be a difficult task to tackle on your own. Ryan strives to be the person to advocate, provide a safe environment, and collaborate with you during unexpected, unrehearsed times of resilience, heart ache, loss, or just confusing times. I am also an ally to the LGBTQ+ community and dedicated to providing a safe space and affirmative supports. Ryan's primary goal is to establish therapeutic alliance that foster hope, healing, personal growth, and insight to continue to get up and show up in the world.
Ryan is a trauma informed therapist who understands what it means to have too many competing demands and not enough resources. If you are struggling with integration of class, race, gender, sexual orientation, ageism, ableism, religious orientations, or immigration she can help you build a map for successful progress forward. Ryan effectively encourage adolescents, adults, couples, families, and provide groups for Mindful self-compassion including anxiety, depression, trauma, conflict resolution, anger management, and grief. Ryan understands navigating these waters on your own can be confusing and difficult. She can grant you the support you deserve, reach out to Ryan today for a consultation.
Specialized Trainings:
Trauma-Focused Cognitive Behavioral Therapy
Dialectical Behavioral Therapy
Mindful Self-Compassion
Treating Military Families
Working with LGBTQI+
Education:
Ryan graduated with a Master of Arts from The Chicago School of Professional Psychology with an emphasis in Marital and Family Therapy. Ryan is currently enrolled in the PsyD in Clinical Psychology Program with the emphasis in Couples and Family Therapy.

Licensure
California Licensed Marriage & Family Therapist #119984
Professional Affiliation
California Association of Marriage & Family Therapist

Specializations: Trauma-Focused Cognitive Behavioral Therapy, Dialectical Behavioral Therapy, Mindful Self-Compassion, Treating Military Families, Working with LGBTQI+
Client focus: Adolescents and adults
Services available: Telehealth | Sliding scale: Yes
We are in-network providers for Anthem Blue Cross and Aetna plans that cover your mental health/behavioral health services. For more details, please visit our FAQs.