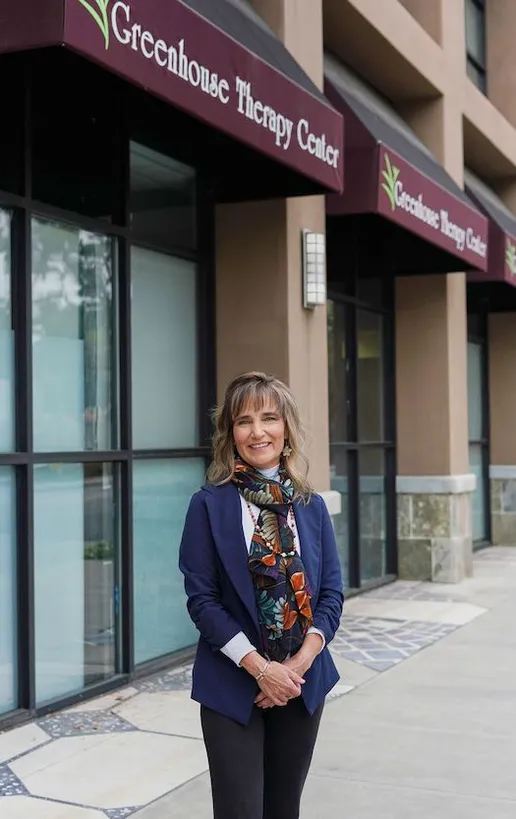 Dr. Andrea Davis is the owner and founder of Greenhouse Therapy Center. She established the practice in 1991 in Pasadena, California. Dr. Davis is a licensed clinical psychologist specializing in psychotherapy and parent support. As a graduate of Brown University Program in Medicine's Post-doctoral Fellowship in Early Childhood Psychology research and practice and a former Director of Research at UCLA's Department of Pediatrics FOCUS Project, she brings experience and expertise in child development theory and research. She is the lead author of Greenhouse's commercially published DIR/Floortime treatment guide for parents and professionals,
Floortime Strategies to Promote Development in Children and Teens
.

Dr. Davis designed our intensive in-home model of DIR/Floortime intervention for children with autism and other developmental disabilities and their parents which was offered for over 20 years at Greenhouse Therapy Center and now is offered by

Positive Development

. She is a senior clinical advisor at Positive Development, a nation-wide startup for providing developmental, relationship-based intervention for children with autism and their families. She also serves as the California Psychological Association (CPA) Legislative Advocacy Network (LAN) representative to the CPA Clinical and Professional Practice Division and a Director-at-Large of the CPA Division 1 Board.


Dr. Davis provides oversight of our center but is no longer available for new clients. You may request a meeting with our Clinical Director, Dr. Ryan Thomas, so he may assess your situation, recommend a variety of potential solutions, and refer you to the best providers to meet your needs depending on the specific approach needed, scheduling match, and payment flexibility.

Education:
Swarthmore College - B.A., Psychology
Fuller Seminary Graduate School of Psychology - Ph.D., Clinical Psychology
Brown University Program in Medicine - Post-doctoral Fellowship

License & Certification:
California Licensed Psychologist PSY12296
DIR Certification - ICDL Expert and Training Leader

Professional Contributions and Memberships:
Senior Vice President of Clinical Operations, Positive Development, Inc.
Director, Interagency Community Connections-Los Angeles
President, DIR/Floortime Coalition of California
San Gabriel Valley Psychological Association
Publications & Research Presentations