DIR/Floortime is a developmental, play-based model for supporting the growth and development of children with special needs in their naturalistic environment by drawing upon their natural motivations.
At Greenhouse, we have made major contributions to the contemporary practice of DIR/Floortime by
1) publishing a manual that systematizes the strategies parents and professionals can use to support their children's development of core social/emotional developmental capacities.
2) advocating on behalf of families to provide options for Regional Center and insurance-funded Floortime through Dr. Andrea Davis' continuing leadership of the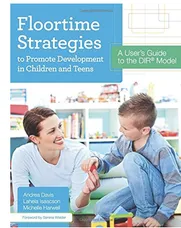 DIR/Floortime Coalition of California.
3) expanding the application of Floortime to developmental work in psychotherapy with clients across the lifespan.
Please visit www.positivedevelopment.com in order to get started with DIR/Floortime Services.
Greenhouse Therapy Center continues to offer developmental assessments to determine whether children may benefit from Floortime intervention, DIR-informed psychotherapy and occupational therapy, and an individualized intensive program that draws upon many DIR/Floortime principles to support individuals healing from trauma.


Find out more about the REGIONAL CENTER APPEALS PROCESS